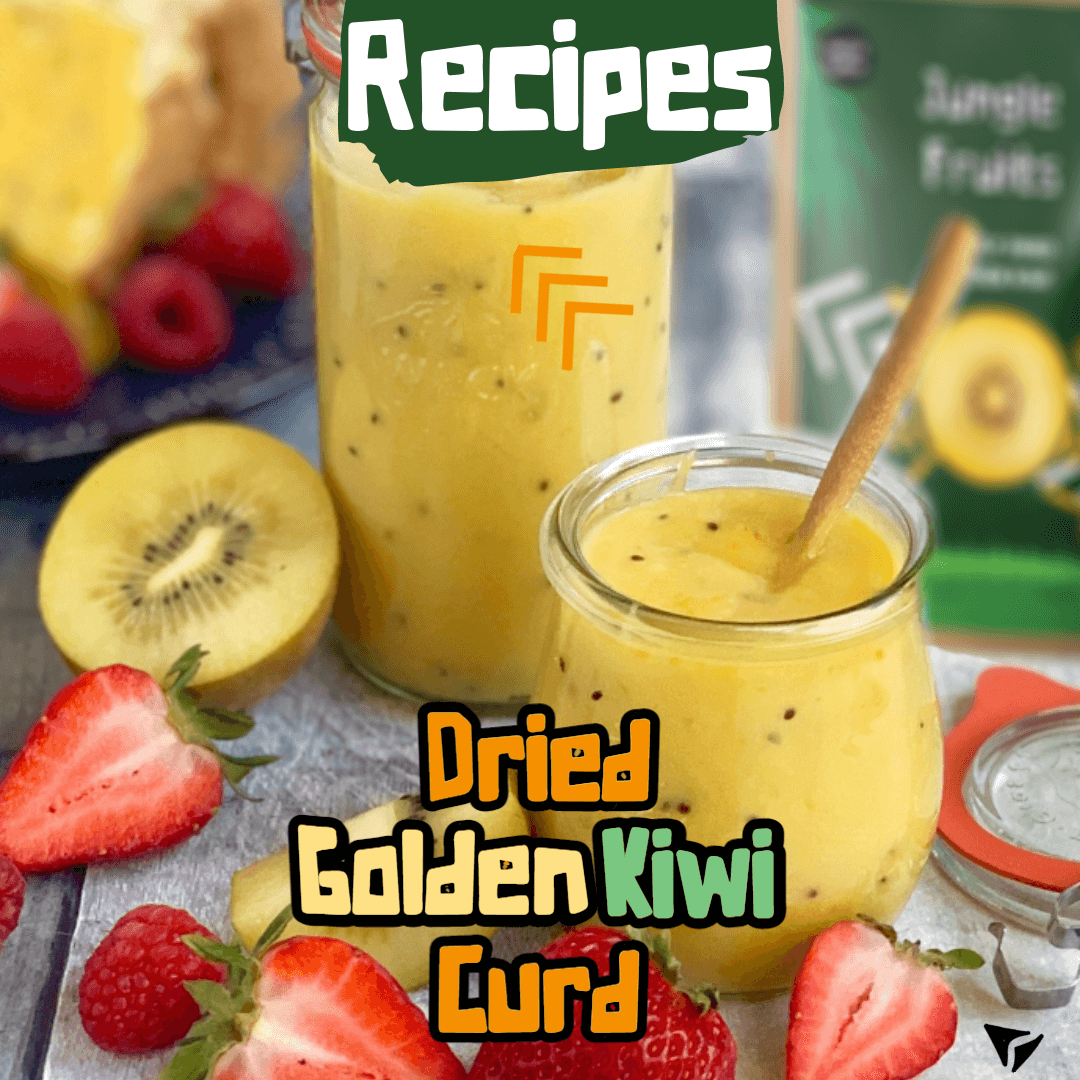 We are probably all used to the lemon curd right but guess what we can get even fruitier than that with the golden kiwi curd😋

All you really need is a a few eggs and some dried golden kiwi and you are good to go!

Now in terms of its uses it can be used as

A topping 🥞🍦🍨🧇
On your scones, pancakes and waffles, ice cream, cheesecake the list could go on

A filling 🧁🍰
Between your cake layers, in a tart, in a crepe, or as a filling for macarons
Ingredients
½ Raw Honey 🍯

6 Egg Yolks 🍳

½ tsp Salt 🧂

¼ cup Butter 🧈

juice of 1 lime 🍋

Jungle Fruit Limited Dried Golden Kiwi 28g 🌴
INSTRUCTIONS
1️⃣Add and press some egg yolks through a fine mesh sieve* into a small saucepan
2️⃣To make the kiwi puree, freeze the dried golden kiwi, once frozen add the kiwis to a blender until very smooth. The smoother the better! Pour into saucepan with egg yolks, then add honey and salt – whisk well to combine
3️⃣Over medium heat,
stir continually while cooking until it just starts to boil and thicken
4️⃣Remove from heat and pour into a cup or bowl. Add a bit of butter and whisk until melted and fully combined. Then Add a bit of lime juice and whisk again
5️⃣Cover the cup/bowl with plastic and place in refrigerator for 15 minutes
Have you made this recipe yourself?
If this recipe has inspired you then we would love to see it and share the love. Make sure you mention us or use the hashtag #tasteofthejungle